FREE SHIPPING ON ALL US ORDERS
How to use.
Safe for pregnancy and nursing.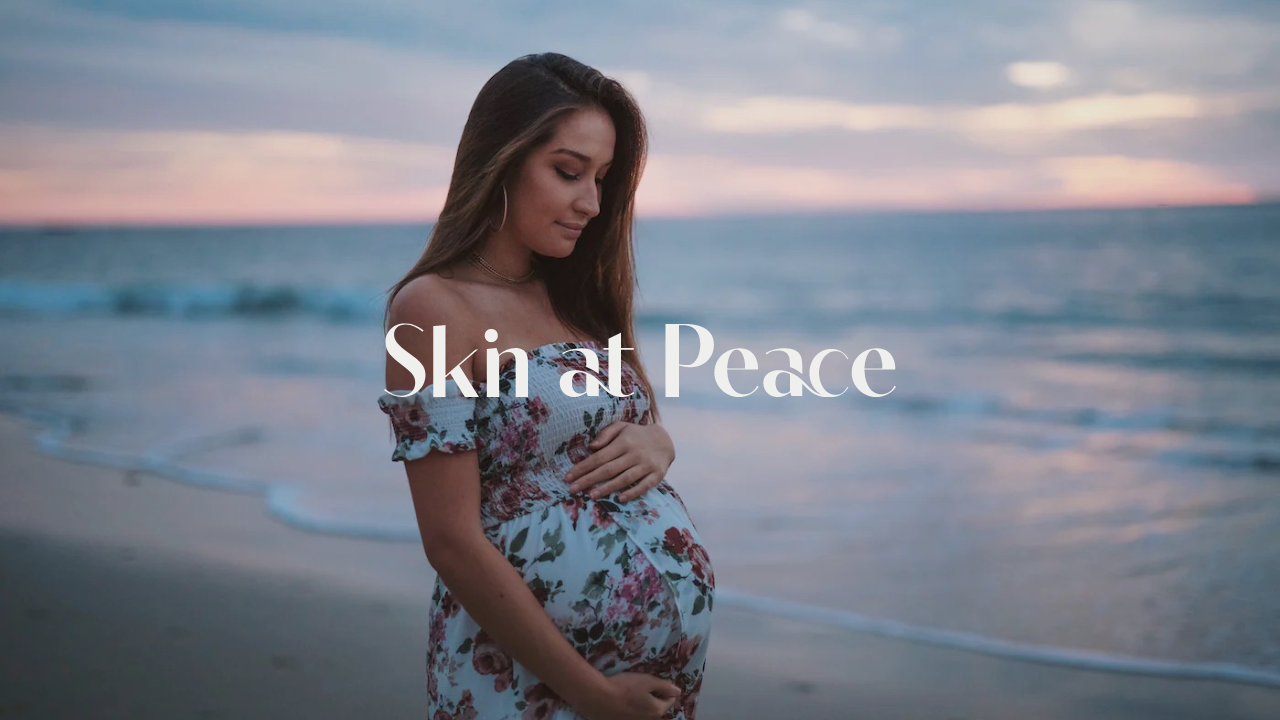 /** * @var $module \Ucraft\Module */ ?>
Julie V.

"My skin is looking better and better! I'm not nearly as broken out anymore and my skin is radiant."

Megan L.

"This product is seriously fire. There is this one spot on my face that was very red and distinct and it's almost completely gone. I didn't think it would ever go away, and since using this newest line my skin has never looked this good. Ever. I'm 39 this year and people don't believe me when I tell them."

Carolina F.

"Obsessed with your products! My skin looks so good since I've been using it. Sun spots, bumps and flaky dryness have disappeared. I'm telling all my friends about it. Literal game-changer."

Kate M.

"I love these products. I have been using Skin at Peace every day and actually look forward to cleaning and moisturizing my face now. My skin seems to look brighter, hydrated, and is less irritated."
Pregnancy Skincare and Beyond.
A safer alternative to traditional skincare.
Read more about pregnancy safe skincare
Due to hormonal fluctuation during pregnancy, there are often changes to your skin. It can be tempting to use certain acne products, but many contain toxins that can be harmful to the baby. Our mission is to provide safe alternatives that are just as effective.
Skin at Peace is free from parabens, sulfates, phthalates, phenols, retinoids, chemical SPF, hydroquinone, and many other harmful yet common ingredients in skincare products. This is why we offer a monthly subscription for a complete pregnancy skincare routine. There is no need for any harmful preservatives or chemicals, so you can feel confident that what you put on your skin is safe.
Get our free guide on what ingredients to avoid during pregnancy and nursing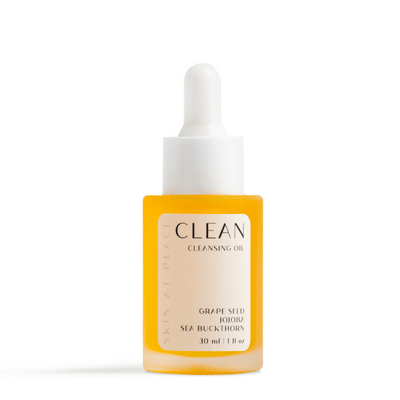 A cleansing oil is the first step towards healthier skin.
It effectively removes makeup and deep cleans the pores without stripping moisture or disrupting the skin's natural microbiome. This lightweight formula leaves all skin types feeling clean and balanced, even the most sensitive.
Grapeseed Oil, Jojoba Oil, Sea Buckthorn Oil, Squalane, Ethylhexyl Palmitate, Tocopherol, Ceramides, Orange Essential Oil.
All plant ingredients are organic.
AM + PM- massage 10-15 oil drops into palm of hand and rub hands together to distribute the oil. Massage the oil over the face, eyelids, and neck. Use over makeup as a remover. Do not add water. Remove the oil with a damp eco-cloth, provided in your box. Option to use disposable cotton pads or washcloth in place of the eco-cloth. Wash eco-cloth by hand or washer machine for next use.
30 ml | 1 fl oz.
Perfect size for daily AM & PM use for 1 month.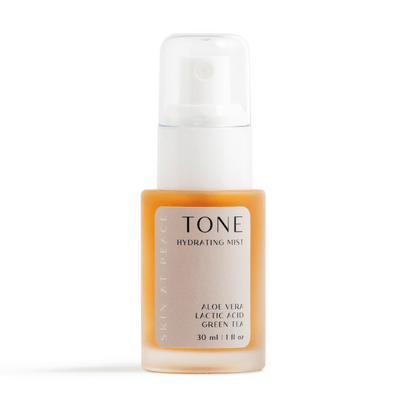 A toner that will balance your skins pH in a refreshing mist.
Formulated with a perfect blend of plant extracts and vitamins to instantly balance, firm and visibly brighten your complexion. This toning mist gently hydrates and preps skin for the next steps in your skincare routine. It also acts as a toner, making it ideal to use before moisturizing. This refreshing mist calms and softens while it gives skin a slightly dewy finish.
Aloe Vera, Lactic Acid, Green Tea Extract, Butylene Glycol, Distilled Water.
All plant ingredients are organic.
AM + PM- mist 3-4 pumps into the palm of hand and press hands together to distribute. Press hands all over the face and neck. Another option is to mist directly onto the face. Leave on skin.
30 ml | 1 fl oz.
Perfect size for daily AM & PM use for 1 month.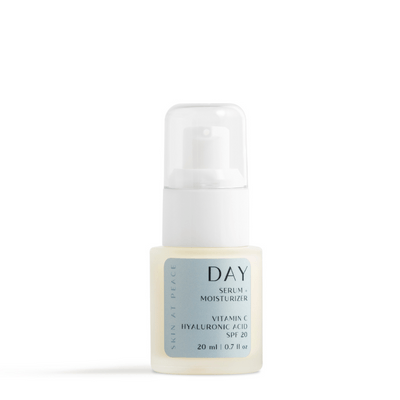 A vitamin c serum + SPF 20 moisturizer in one that brightens, hydrates, soothes, and protects your skin.
This multitasking formula is a vitamin c serum and SPF 20 moisturizer all in one. It has hyaluronic acid to hydrate, zinc oxide to protect, and vitamin c to reduce dark spots, even skin tone, and reduce redness. While minimizing the signs of aging, your skin will have a healthy glow after just one use.
L-Ascorbic Acid, Magnesium Ascorbyl Phosphate, Ferulic Acid, Hyaluronic Acid, Glycerin, Ceramides, Zinc Oxide, Titanium Dioxide, Tocopherol, Panthanol, Grapeseed Oil, Squalane, Jojoba Oil, Orange Essential Oil, Distilled Water.
All plant ingredients are organic.
AM- massage 1-2 pumps over face. leave on skin.
20 ml | 0.7 fl oz.
Perfect size for daily AM use for 1 month.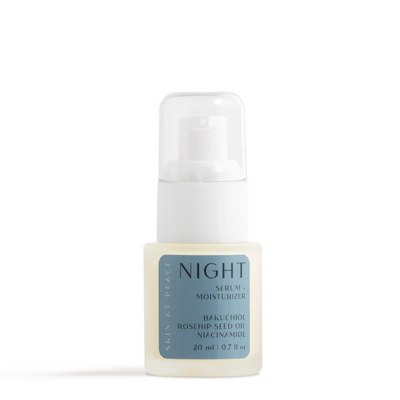 An anti-aging serum and moisturizer in one. It combines a natural retinol alternative, bakuchiol, with niacinamide and hyaluronic acid to reduce fine lines and wrinkles, restore radiance, and calm redness.
Night offers a natural alternative to retinol— safe for pregnancy and breastfeeding, with none of the peeling or irritation. A two-in-one serum and moisturizer to smooth, hydrate and protect. It will give you younger-looking, radiant skin by restoring cellular turnover, reducing pigmentation, fading discoloration and evening out skin tone. Night's multitasking formula delivers skin softening results while you rest.
Bakuchiol, Rosehip Seed Oil, Niacinamide, Hyaluronic Acid, Ceramides, Squalane, Panthanol, Ferulic Acid, Glycerin, Grapeseed oil, Jojoba Oil, Emulsifying Wax, Orange Essential Oil, Distilled Water.
All plant ingredients are organic.
PM- massage 1-2 pumps over face. Leave on skin.
20 ml | 0.7 fl oz.
Perfect size for daily PM use for 1 month.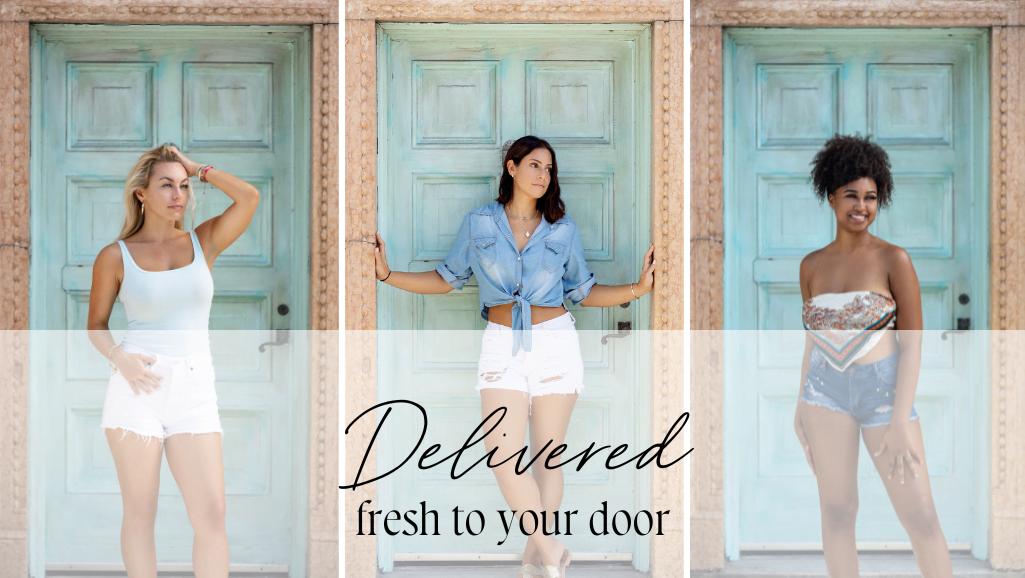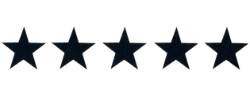 Best products I've ever used! My daughter commented on how great my skin was looking
LINDA C.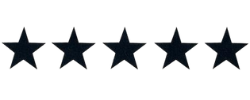 "It's seriously amazing!"
After one week of using the products my skin is so much healthier, brighter, and my expression lines smoother.  I now take unfiltered selfies!
CAROLINA F.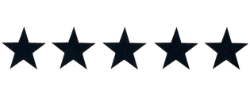 "Hands down the best skincare" 
I've been using Skin at Peace consistently for a year now, and my skin has never looked better!  I haven't felt this confident about not wearing makeup since I was a teenager.
MEGAN L.